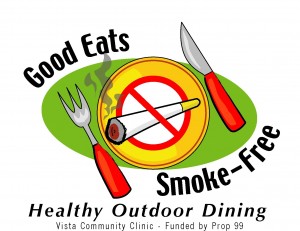 Smoke-free Outdoor Dining is Good for Business and Good for Health!
More than 180 cities and counties across California have passed ordinances for smoke-free outdoor dining, including Carlsbad, Coronado, Chula Vista, Del Mar, El Cajon, Encinitas, Escondido, Imperial Beach, La Mesa, National City, Oceanside, San Marcos, Solana Beach and the Unincorporated Areas of San Diego County.
Vista Community Clinic's Tobacco Control Program is working to extend those protections to all our North County communities.
Smoking in outdoor dining areas not only exposes patrons and their families to secondhand smoke, but the employees working in these outdoor areas. There is no safe distance from cigarette smoke and it does not go away just because it is outside. Adults, children, pets and employees are all exposed to secondhand smoke on outdoor patios.
Several restaurant owners have adopted voluntary no-smoking policies, but cities can expand those protections to all. To see a list of restaurants with voluntary smoke-free policies, click here.
If you live in Vista and are interested in helping to create smoke-free outdoor dining in your community, please contact Lisa Archibald at Lisa.Archibald@vcc.org or 760-631-5000 Ext 7165
Smoke-free outdoor dining, next up-City of Vista!