North Coastal Prevention Coalition and MADD Join Forces for Annual '420 Remix – A Celebration of Sober and Drug Free Life Choices' to Offer Positive Alternative to Unofficial 'National Weed Day'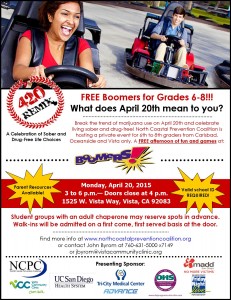 WHAT: The North Coastal Prevention Coalition (NCPC) and MADD join forces on April 20 (the unofficial 'National Weed Day' in the drug culture) to give middle school parents the straight dope on preventing youth pot smoking at its Annual '420 Remix – a Celebration of Sober and Drug Free Life Choices.'
For more than a decade, NCPC has sponsored the positive, drug free event on April 20th – a day considered an unofficial marijuana-smoking holiday by many in the drug culture. The event is open to middle school students from Carlsbad, Oceanside and Vista and provides drug-free fun with free entrance to Boomers! Information and resources will be available for both parents and middle school students.
"We strongly encourage parents to get involved," said NCPC President Craig Balben. "Previous research shows that parents are the No. 1 influence on their kids' decisions about alcohol and other drugs."
MADD, with support from Nationwide Insurance, developed the Power of Parents® handbook to encourage parents to start ongoing conversations with their kids about the dangers of underage drinking. The guidelines – including open communication, setting clear expectations, and following through with reasonable consequences – are equally effective in preventing youth marijuana use. The handbook is presented by trained volunteers in a brief 30-minute workshop.
WHEN:            3:00 P.M. – 6:00 P.M, Monday, April 20, 2015
*MADD 'Power of Parents' workshops will be offered in English and Spanish from 5:00-5:30 PM
WHERE:          Boomers! Entertainment Center – 1525 W. Vista Way, Vista 92083              
WHY: Youth marijuana use has been on the rise since 2009. Fewer youth believe that frequent marijuana use is harmful to them and more youth report using marijuana in the past month, according to the California Healthy Kids Survey. Marijuana is addictive and unsafe, and the adolescent brain is particularly susceptible to THC's harmful effects that can decrease teen's mental capabilities over time.
NCPC to Sponsor Free 420 Remix Event at Boomers! for Middle School Students, Parents