Teens Educate Seniors on San Diego County's Leading Cause of Accidental Death
CARLSBAD, Calif. (Aug. 14, 2014) —- Grandparents play a "powerful" role in the battle against prescription drug abuse, which has become the leading cause of accidental death in San Diego County, according to the San Diego County Medical Examiner's Office.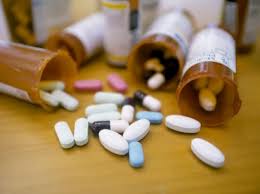 Who better to hear that message from than teens, who are often the first to hear about the latest drug trends? On August 14, from 10:30 a.m. to 11:30 a.m., members of the North Coastal Prevention Youth Coalition will team up with the Carlsbad Police Department, the Vista Community Clinic and Carlsbad Councilmember Lorraine Wood to present "The Power of Grandparents: How Seniors Can Play an Important Role in Preventing Prescription Drug Abuse." This presentation will be at the Carlsbad Senior Center located at 799 Pine Avenue in Carlsbad.
This inter-generational event gives senior citizens the unique opportunity to hear from youth about the dangers of prescription drug abuse and take precautions, such as take medications as directed and not share prescriptions with family, as well as secure medications in a safe place away from visitors and youth.
"Many seniors do not know the impact of leaving their medications around," said Ray Pearson, President of the North Coastal Prevention Coalition. "We hope to inspire them to take action and embrace this crucial responsibility in their grandkids' lives."
Prescription drug abuse is one of the nation's fastest growing youth-related drug problems. Every day, more than 2,500 teenagers use a prescription drug to get high for the first time, reports The Partnership at DrugFree.org.
About 64 percent of teens ages 12 to 17 who have abused pain relievers say they got them from their friends or relatives, typically without their knowledge, according to the Partnership. By simply removing unused prescriptions and disposing of them safely, grandparents and others can help reduce youth access to prescription drugs.
In addition to learning about how to communicate with their grandkids, seniors are encouraged to bring unused or expired medications to the presentation where Carlsbad Police will have a portable drop box. The City also provides a permanent Prescription Drop Box located at the Carlsbad Safety Center, 2560 Orion Way in Carlsbad residents can use year round to dispose of unused prescriptions.
"We're very pleased to provide this valuable resource to the public," Councilmember Lorraine Wood said. "Grandparents can play a powerful role in their grandchildren's lives by securing their prescriptions and properly disposing of unused or expired medications."
For more information on prescription drug abuse and proper disposal, please contact John Byrom, NCPC/VCC Prevention Specialist, at (760) 631-5000, Ext. 7149. Other North Coastal Prescription Drug Drop Boxes are located at the Oceanside Police Department, 3855 Mission Ave in Oceanside, and most San Diego County Sheriff's Department Stations including 325 S Melrose Drive in Vista and 175 N El Camino Real in Encinitas.
****
About North Coastal Prevention Coalition (NCPC)
The mission of NCPC is to reduce the harm of alcohol, tobacco, marijuana and other drugs in the cities of Carlsbad, Oceanside and Vista through community action, education, support and collaboration. Funded in part by the County of San Diego, HHSA, Behavioral Health Service through a contract to to Vista Community Clinic. For more information visit: www.northcoastalpreventioncoalition.org.
MEDIA CONTACT: Erica Holloway, Galvanized Strategies Mobile: (619) 796-1651
erica@galvanizedstrategies.com
'Powerful' Grandparents Key in Preventing Prescription Drug Abuse