North Coastal Prevention Youth Coalition Awarded $1K at 2014 420 Remix PSA Contest

VISTA — While pro-pot advocates may celebrate April 20th as 'National Weed Day,' prevention advocates in North San Diego County rewarded sober and drug free life choices.
For more than a decade, the North Coastal Prevention Coalition (NCPC) has sponsored a positive, drug free event on April 20th – a day considered a national marijuana-smoking day in the drug culture.This year marked NCPC's second annual Public Service Announcement contest for students in middle and high schools throughout San Diego County.
The PSA contest awards ceremony for 11th Annual 420 Remix: A Celebration of Sober and Drug Free Life Choices program, on April 20 at Boomers in Vista honored the North Coastal Prevention Youth Coalition with $1,000 for first prize.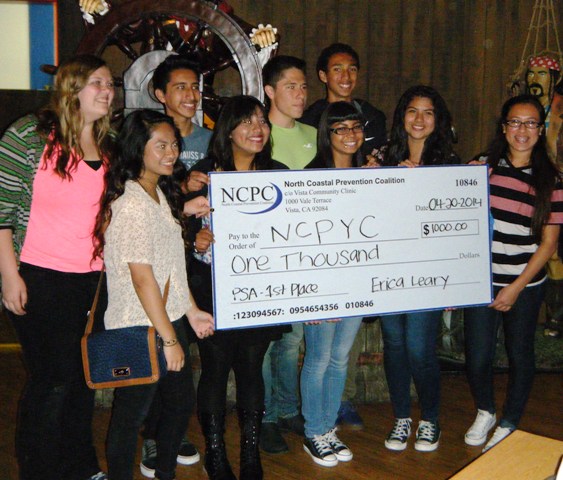 [WATCH VIDEO HERE]
Second place winners Project REACH Joe Balderamma Park [VIDEO] received $500 for second place and the Boys & Girls Club of North County [VIDEO] won Boomers! tickets for third place.
Last year's first prize winners from the Libby Lake REACH Project garnered public attention for their moving portrayal inspired by real-life events surrounding the tragic Libby Lake shooting that left two Oceanside teens dead. WATCH THE VIDEO HERE [http://youtu.be/Ut0vgAR9F6A].
"The Libby Lake shooting proved to Oceanside youth that the drug life – including marijuana – isn't harmless," said President Aaron Byzak of the NCPC. "NCPC's 420 Remix forces contestants to think about living a healthy life; free from drugs, alcohol and tobacco."
Youth marijuana use has been on the rise since 2009. Fewer youth believe that frequent marijuana use is harmful as more youth report using marijuana in the past month, according to the California Healthy Kids Survey. Yet, marijuana is addictive and unsafe especially for use by young people. The adolescent brain is particularly susceptible to THC's harmful and addictive effects which can decrease teen's mental capabilities over the long term.
The PSA contest is co-sponsored by Occupational Health Services, San Diego County Department of Education Friday Night Live, Oceanside Unified School District, the Boys and Girls Club of Oceanside, and Natural High as a way to involve youth in thinking critically about what messages would influence their peers against marijuana use, and to tap into their creativity.
About North Coastal Prevention Coalition (NCPC)
The North Coastal Prevention Coalition aims to reduce the harm of alcohol, tobacco, marijuana and other drugs in the cities of Carlsbad, Oceanside and Vista through community action, education, support and collaboration. Funded in part by the County of San Diego, HHSA, Behavior Health Services; by SAMHSA though the STOP Act; and by the Tri-City Hospital Foundation and Walmart Foundation with grants to Vista Community Clinic.
# # #
---
Media Contact: Erica Holloway Media Consultant, Galvanized Strategies erica@galvanizedstrategies.com Mobile: (619) 796-1651  
Youth Group Wins Anti-Marijuana Video Contest