North Coastal Prevention Coalition Vice President Ray Pearson recently shared his thoughts on the recreational use of marijuana in a commentary for the U-T San Diego " 'Marijuana Bowl' Buzz Not So Super."
The piece notes the national marijuana discussion around Super Bowl XLVII, despite the documented harms of marijuana use.
"When teams hailing from Denver and Seattle solidified spots at Sunday's Super Bowl XLVII, it wasn't just the talk of two No. 1 seeds duking it out or even Richard Sherman's antics, but the states' recreational marijuana sales policies that got the online world buzzing about the 'Marijuana Bowl.' "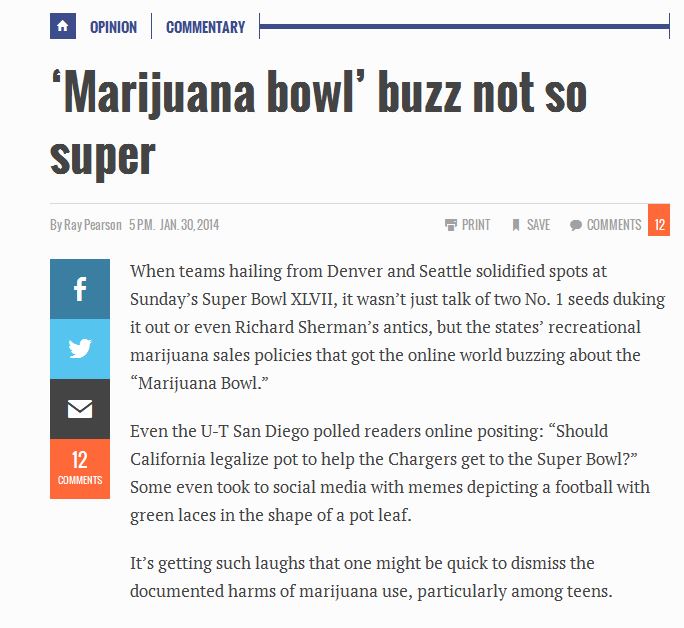 About North Coastal Prevention Coalition (NCPC)
The North Coastal Prevention Coalition aims to reduce the harm of alcohol, tobacco, marijuana and other drugs in the cities of Carlsbad, Oceanside and Vista through community action, education, support and collaboration. Funded in part by the County of San Diego, HHSA, Behavior Health Services; by SAMHSA though the STOP Act; and by the Tri-City Hospital Foundation and Walmart Foundation with grants to Vista Community Clinic.
Our Commentary: 'Marijuana Bowl' Buzz Not So Super