The North Coastal Prevention Coalition celebrated 20 years of service to North County as an advocate for healthy and safe communities free from the problems of alcohol, tobacco, marijuana and other drug use featuring keynote speaker U.S. Attorney Laura Duffy.
Since 1993, the North Coastal Prevention Coalition (NCPC) has delivered a message of collective responsibility, collaboration, and support in its mission to prevent substance abuse in the cities of Oceanside, Carlsbad and Vista.
Community leaders joined board members, staff, and collaborating partners to celebrate the organization's achievements at a special anniversary event at the El Camino Country Club, 3202 Vista Way, in Oceanside.
The keynote address was given by Laura Duffy, US Attorney for the Southern District of California. Duffy is the recipient of many prominent Department of Justice awards, including the Attorney General's Award for Distinguished Service, which she received in 2008 for her work on the Arellano-Felix drug cartel cases. READ MEDIA COVERAGE: U-T San Diego and The Coast News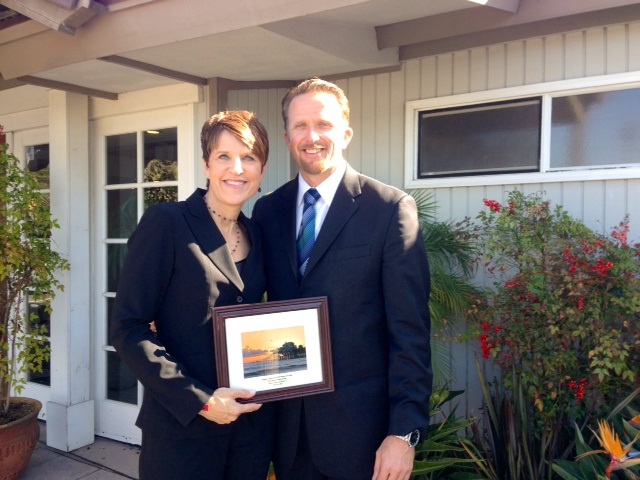 U.S. Attorney Laura Duffy accepts a token of appreciation from NCPC President Aaron Byzak at the organization's 20th Anniversary.
Featured speakers at the celebration included Nick Macchione, Director of the County of San Diego Health and Human Services Agency (HHSA), and Chuck Matthews, Deputy Director of the County of San Diego HHSA, North Regions. The anniversary program highlighted achievements of the NCPC's STOP Act Grant, which was awarded in 2008 to prevent and reduce underage drinking in Hispanic populations.
In 2009, NCPC received national recognition as the Community Anti-Drug Coalitions of America's (CADCA) prestigious Coalition of the Year Award due to comprehensive, community-level approaches to combat substance abuse, such as Social Host Ordinances to prevent underage drinking at private parties; retail efforts to reduce the sale of drug paraphernalia; the annual 420 Remix event to reclaim April 20th as a Celebration of Sober and Drug Free Life Choices; and prescription drug education events and Take-Back days to prevent youth access to prescription drugs.
"In 20 years, the North Coastal Prevention Coalition has made incredible strides to reduce substance abuse and inspire healthy, drug-free lifestyles," said NCPC President Aaron Byzak. "But we still have much more work to do. Our anniversary celebration will showcase what can be accomplished when we all work together."
About North Coastal Prevention Coalition (NCPC)

The North Coastal Prevention Coalition aims to reduce the harm of alcohol, tobacco, marijuana and other drugs in the cities of Carlsbad, Oceanside and Vista through community action, education, support and collaboration. Funded in part by the County of San Diego, HHSA, Behavior Health Services; by SAMHSA though the STOP Act; and by the Tri-City Hospital Foundation and Walmart Foundation with grants to Vista Community Clinic.
###
U.S. Attorney Duffy Addressed NCPC at 20th Anniversary