Prescription drug abuse prevention may rest in some capable hands: grandparents.
It's an important job. As one of the nation's fastest growing youth-related drug problems, more 2,500 teenagers use a prescription drug to get high for the first time, reports The Partnership at DrugFree.org.
This rising trend is in large part due to the popular misconception that doctor prescribed medications are safer than experimenting with illegal drugs like meth, cocaine, or heroin. However, the use of prescription drugs has led to an increased number of unintentional injuries, drug overdoses and has become the leading cause of accidental death in San Diego County, surpassing motor vehicle crashes and deaths from illicit drugs, according to the San Diego County Medical Examiner's Office 2011 report.
To help combat this startling statistic, the North Coastal Prevention Youth Coalition teamed up with the Vista Sheriff's Department and the Vista Community Clinic to present "The Power of Grandparents: How Seniors Can Play an Important Role Preventing Prescription Drug Abuse" to seniors at the Gloria E. McClellan Senior Center.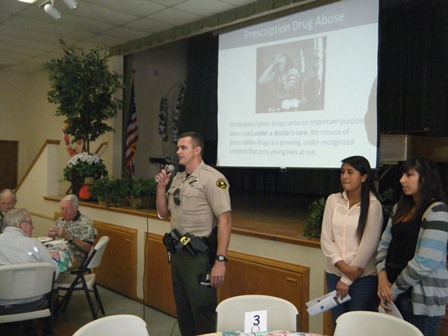 San Diego County Sheriff's Deputy Trenton Stroh speaks about the rising trend of young people abusing prescription drugs. 
Youth advocates Olivia Lopez (center) and Dahlia Bonilla assisted in the presentation. 



This inter-generational event gave over 70 senior citizens the unique opportunity to hear from youth about the dangers of prescription drug abuse, and how seniors can help keep their grandchildren drug free through simply keeping open lines of communication, and properly disposing of their old or unused medications.
Many of the participants were unaware of the impact they could have on their grandchildren and were excited to hear about the unique role they could play in their lives.
"I loved having the youth come down and spend their time educating us about such an important topic," said a senior. "It warmed my heart to hear about how much impact we have on their lives and just how much they look up to us and respect our opinions."
In addition to learning about how to communicate with their grandchildren, the seniors were encouraged to bring unused or expired medications to the event to properly dispose of them in a drop box provided by the Vista Sheriff's Department, and informed about the permanent drop box located at the Vista Sheriff substation at 325 S. Melrose Drive.
About 64 percent of teens ages 12 to 17 who have abused pain relievers say they got them from their friends or relatives, typically without their knowledge, according to the Partnership. By simply removing unused prescriptions and disposing of them safely, grandparents and others can help reduce youth access to prescription drugs.
The event was a great success and not only provided a lot of valuable information, but brought together two different generations for a greater good.
"You could see that having the youth share their personal stories of spending time with their grandparents really created an impact on the seniors and made them feel appreciated and valued," said Bill Crane, Program Manager at the Gloria E. McClellan Senior Center.
For more information on prescription drug abuse and proper disposal, please contact John Byrom, NCPC/VCC Prevention Specialist, at 760-631-5000 ext. 7149. A listing of all permanent drop boxes in San Diego County can be found on the San Diego County Sheriff website at: http://www.sdsheriff.net/oxycontin/dropbox.html
****
About North Coastal Prevention Coalition (NCPC)
The mission of NCPC is to reduce the harm of alcohol, tobacco, marijuana and other drugs in the cities of Carlsbad, Oceanside and Vista through community action, education, support and collaboration. Funded in part by the County of San Diego, HHSA, Behavioral Health Service and by SAMHSA through the STOP Act with grants to Vista Community Clinic.
For more information visit: www.northcoastalpreventioncoalition.org.
Prescription Drug Abuse Prevention in Grandparents' Hands