VISTA — Are two cracked and frying eggs really like your brain on drugs?
Today's parents may have wondered about the impact of that message 25 years ago, but the memory of that anti-drug Public Service Announcement (PSA) stuck.
Now, it's San Diego County kids' turn to see if they've got what it takes to make their peers think twice about marijuana use in a minute or less.
The North Coastal Prevention Coalition kicks off its 9th Annual 420 Remix: A Celebration of Sober and Drug Free Life Choices program with a PSA video contest. Any student or youth organization in San Diego County in grades 6 through 12 are eligible to enter the contest.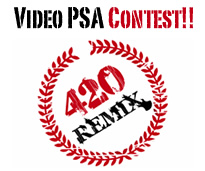 The PSAs must address the negative impact of youth marijuana use on physical or emotional health, or on achieving their goals.
Videos must be submitted as a hard copy DVD along with an entry form postmarked no later than March 1, 2013. PSA entries should be addressed to NCPC 420 Remix PSA Contest, c/o Vista Community Clinic, 1000 Vale Terrace, Vista, CA 92084.
Winning entries will be shown on a big screen during the 420 Remix awards ceremony on April 20, 2013, where all the participants will be honored for their creativity and hard work.
Individual students can win $500 and youth organizations can earn up to $1,000.
"We encourage kids to use any form of film – live action, animation, claymation, stop-motion or any combination," said President Aaron Byzak of the NCPC. "The idea's to be clever and engaging while delivering an important message – don't smoke marijuana."
Youth marijuana use has been on the rise since 2009. Fewer youth believe that frequent marijuana use is harmful as more youth report using marijuana in the past month, according to the California Healthy Kids Survey.
"Research studies clearly demonstrates that marijuana has the potential to cause problems in daily life or make a person's existing problems worse. In fact, heavy marijuana users generally report lower life satisfaction, poorer mental and physical health, relationship problems, and less academic and career success compared to their peers who came from similar backgrounds." (National Institute on Drug Abuse, www.drugabuse.gov)
The contest is co-sponsored by San Diego County Friday Night Live, Oceanside Unified School District, the Boys and Girls Club of Oceanside, and Natural High as a way to involve youth in thinking critically about what messages would influence their peers against marijuana use, and to tap into their creativity.
See official entry guidelines and get entry forms for the 420 Remix PSA Contest at https://northcoastalpreventioncoalition.org.
About North Coastal Prevention Coalition (NCPC)
The North Coastal Prevention Coalition aims to reduce the harm of alcohol, tobacco, marijuana and other drugs in the cities of Carlsbad, Oceanside and Vista through community action, education, support and collaboration. Funded in part by the County of San Diego, HHSA, Behavior Health Services; by SAMHSA though the STOP Act;
and by the Tri-City Hospital Foundation and Walmart Foundation with grants to Vista Community Clinic.
# # #
420 REMIX ANTI-MARIJUANA VIDEO PSA CONTEST CHALLENGES SAN DIEGO YOUTH